Garage Roller Replacement
Garage Roller Replacement is Quick and Easy With Garage Door Pro
A garage door that doesn't function smoothly doesn't seem right. It's supposed to be opened and/or closed quickly and easily and without any complications. There are plenty of components that make that possible, but among the most crucial are garage door rollers. You might not notice them that much, but they're pretty much busy whenever you operate your garage door – highlighting their importance.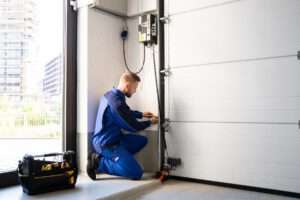 When you first bought your home, your garage door opened and shut easily and smoothly. Over the years, though, it's started to stick more and more. When you inspect it, you notice that one or more of the rollers are looking worn down and out of round. It's likely time to call Garage Door Pro for our garage roller replacement services.
Avoid Unnecessary Repairs
Your garage door rollers allow your garage door to move smoothly along its tracks as it opens and closes. Whether you are using a garage opener or you are manually lifting and lowering your garage door, it's important to have rollers that are in good working condition. If they're not, every time you lift and lower your door, you'll be putting more stress on your garage door's springs, tracks, and other components, as well as your garage door opener's engine. This can lead to parts wearing out faster, which can result in otherwise unnecessary repairs and garage door maintenance. Again, this could be a sign that you need to let experts take over and help you with your garage roller issues.
Garage Roller Replacement
Our commitment to giving the very best garage door repair installation and maintenance services to all our customers is best exemplified by our 24/7 same-day service guarantee. It truly showcases our reliability as well as the high quality of our services. Garage Door Pro's brand of excellence and position as a leader in the industry is displayed for everyone to experience!