Are you experiencing problems with a garage door?
A New Garage Door Boosts Your Home's Value
Maybe it's not opening and closing when you push the button for it. Maybe it's making a lot of noise every time it goes up and down. Or maybe it's leaving a big gap in between the bottom of the garage door and the ground when it closes.
Whatever the case, you should make sure that you schedule garage door repair right away. On average, garage door repair cost sits at around $250 right now. But garage door repair prices will also fluctuate depending on a number of different factors.
It's important for you to keep these factors in mind when you're in the market for a garage door repair company. You can give yourself a pretty good idea of how much you're going to have to pay to repair your garage door by carefully considering them.
Take a look at several of the factors that could have an impact on your garage door repair costs.
What's Wrong With Your Garage Door?
First things first: If you're going to come up with a good answer to the question, "How much does garage door repair cost?", you're going to have to try and figure out what's wrong with your garage door.
There are a bunch of different things that could be wrong with it. If you have something as simple as a broken spring, you could be looking at less than $100 for garage door repair. But if you have a garage door panel that's broken and needs to be replaced, you could be looking at paying up to $800 in some cases.
If you don't have the slightest clue about how garage doors work, you might not be able to diagnose a garage door issue on your own. But you can get some idea of how much it costs to fix the various parts that exist within your garage door system.
In addition to the aforementioned springs and panels, some of the other garage door parts that may need to be repaired are:
Cables and chains, which often cost between $100 and $200 to repair
Openers, which often cost between $100 and $200 to repair
Tracks, which often cost between $100 and $300 to repair
Sensors, which often cost between $80 and $100 to repair
Locks, which often cost between $100 and $350 to repair
As you can see, you'll pay way less than the average cost of garage door repair to fix, say, a broken garage door sensor. But you could way more than the average cost for a broken lock. The part that needs to be fixed will play a big role in your total cost.
How Long Is It Going to Take to Fix Your Garage Door?
There are certain garage door repairs that aren't going to take a repairman more than a few minutes to make. For instance, it's not all that hard to swap out an old sensor for a new one.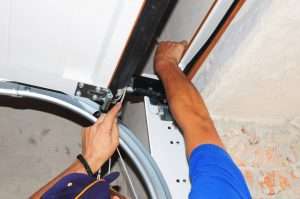 But there are also some garage door repair jobs that can prove to be very complicated. If, for example, you need to have the cable or chain for your garage door replaced, a repairman will usually have to spend a decent amount of time tinkering with it.
The time that a repairman has to spend on your garage door can increase your labor costs. A relatively routine garage door repair could end up costing more than you were expecting after a repairman spends two hours trying to get a new cable to work the way it's supposed to.
Who Are You Going to Hire to Make Garage Door Repairs?
If you're on the hunt for a company to help you with garage door repairs, you shouldn't have too much trouble tracking one down. There are hundreds of them scattered across the country right now.
But just like with any other industry, you're going to find that all garage door repair companies don't charge the same prices for their services. In fact, you might find that one company in your city charges a whole lot less for their services than another company that operates in the same area.
That being said, you shouldn't simply choose the least expensive garage door repair company when you're in the market for one. The old saying, "You get what you pay for," tends to apply to garage door repair companies. You might not get high-quality services if you're only concerned with cost when looking for a garage door repair company.
Search for a company that will provide you with fair and affordable prices and superior repair services. It'll help you avoid having to pay for more garage door repairs down the line.
How Quickly Do You Need Your Garage Door Repaired?
Do you keep a luxury car tucked away in your garage? Do you have a lot of expensive tools in your garage? Or do you use your garage to store all of your lawn equipment?
If you answered "yes" to any of these questions, there's a good chance that you're not going to want to wait long to have garage door repairs done. You'll want a garage door repair company to come out and fix your door right away, especially if it's stuck in the up position and putting some of your personal possessions at risk.
You can expect to pay a little more if you need to have emergency services performed on your garage door. Most companies won't have any problem sending someone out to your home in a hurry. But your garage repair cost might be higher than it would usually be since you need repairs made right away.
Is There a Chance There Could Be Hidden Expenses?
You aren't going to have to worry too much about hidden expenses popping up when it comes to most garage door repairs. These expenses aren't often associated with things like garage door panel replacement.
But let's say that your garage door opener is giving you fits and you want to have it fixed. A garage door repair company can come and check it out to see if they can get it working again.
There is, however, a chance that you may need to have some of the electrical wiring in your garage door opener looked at by an electrician. This will call for you to schedule a separate appointment with an electrician after paying for a garage door repair company's services.
The electrician is going to add on to your total expenses and make your garage door repair more expensive than it would be otherwise. Electricians tend to charge a flat fee of about $50 to $100 for service calls plus anywhere from $40 to $120 for every hour of work that they do.
As we said, you probably won't have to worry about these kinds of hidden expenses rearing their ugly head. But they could very well affect how much you have to pay to have a garage door repair made, so it's good to be mindful of them.
Are You Going to Ask a Garage Door Repair Company for Any Additional Services?
Most people don't need to have garage door repair companies visit their homes very often. As a result, they'll sometimes add a couple of extra services on top of their repair job when they have a company out to their home. It's better to do things this way than to have them come back later.
Do you think this might be something you want to do? It never hurts to have something as simple as a garage door tune-up done when you're having a spring repaired or a garage door opener adjusted.
Your garage door tune-up cost will add to your bill. But it's something that you're going to need to do at some point anyway, so it could end up saving you money in the long run.
Just be sure that you factor it into your garage door repair cost so that you can budget for it. It'll make the bill that you receive from your garage door repair company so much more manageable.
So, How Much Does Garage Door Repair Cost? It All Depends
Do you suspect that you might have an issue with your garage door that requires repair? If so, you might be worried about what it's going to cost you.
But as long as you work with a reputable company that does great work, you shouldn't be too concerned about it. The answer to the question, "How much does garage door repair cost?", depends on all the factors we've talked about here and is often much less than people think it will be.
Let us show you how easy it can be to fix your garage door without spending a small fortune on it. We can send a garage door repairman out to your home today to take a look at your door and tell you what needs to be fixed. We can also handle garage door installation jobs if you would like to replace your existing garage door.
Contact us today to schedule a garage door repair in your home.
We provide expert advice and services for all of your garage door repair installation and maintenance needs. Whether you are trying to decide between garage door maintenance and buying a brand new garage door, we can help you understand your options and give you the best solution for your needs, budget, and style. Veteran-Led and insured business.